From Lando Calrissian to Ahsoka Tano, Star Wars Rebels excels at weaving a rich array of Star Wars characters into their narrative. Fans reveled in the inclusion of Rogue One characters in Season 3, such as Saw Gerrera and Mon Mothma, both of whom are set to return in Season 4. With Star Wars Rebels entering its final season, and the show's timeline growing even closer to the events of Rogue One, the potential for including more Rogue One characters definitely exists. Two fan favorites — Cassian Andor and K-2SO — have the most potential of Rogue One characters to meet the Ghost crew in Season 4 with their integral roles in the Rebel Alliance.
Yavin 4 Sets The Perfect Stage For Meeting
Audiences already know from Rogue One that Cassian and K-2 are staples of the Rebel Alliance and frequent the base on Yavin 4. The #StarWarsRebels Season 3 finale and Season 4 trailer show the Ghostcrew is now headed to Yavin 4. Cassian has been in the fight against the Empire since he was 6 years old and, due to his crucial position in the Alliance by the time of Rogue One, it's a sure bet he'd already be on Yavin 4 during the time of Season 4.
It's unclear how long K-2 has been part of the Alliance, though an upcoming comic book will likely clarify that. Unless the timing is super close to the beginning of Rogue One — which is unlikely based on K-2's familiarity with the Alliance and repertoire with Cassian in the film — K-2 is just as likely to be frequenting the Yavin 4 base around the time of Star Wars Rebels Season 4.
There are countless ways Cassian and K-2 can cross paths with the Ghost crew once they land. Cassian could even be an individual to whom they report in greater detail what happened at the Battle of Atollon. While Cassian and K-2 could meet all members of the Ghost crew, in terms of longevity, the characters they're most likely to meet and maintain relationships with are Hera and Chopper, who are at Yavin 4 during the time of Rogue One.
K-2 interacting with Chopper and AP-5 would be absolutely hilarious, and he would refuse to take any crap from the sometimes immature Zeb and Ezra. Dedicated to defeating the Empire and restoring what they've destroyed, Cassian would likely be most interested in meeting the Jedi among the Ghost crew: Kanan and Ezra.
Would Cassian Mistake Chirrut For A Jedi If He'd Already Met Kanan And Ezra?
After Cassian witnesses the blind Chirrut Imwe battling Stormtroopers on Jedha, he asks Baze Malbus if Chirrut is a Jedi. This makes sense when watching Rogue One, as the Jedi have mostly become the stuff of myths and legends due after Order 66. Chirrut's dialogue concerning the Force and his unique fighting style would logically make Cassian wonder if the Guardian of the Whills is a Jedi.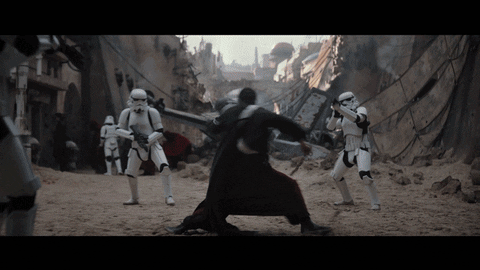 While this makes sense in the context of Rogue One and Star Wars canon up to that point, it is highly unlikely that Cassian would mistake Chirrut for a Jedi if he'd already met Kanan and Ezra. Chirrut is impressive and his belief in the Force powerful, but he is not a Jedi. If Cassian has met Kanan and Ezra, seen them use the Force, and wield their lightsabers, Cassian should recognize Chirrut is not a Jedi.
If their meeting is written well, Cassian could meet Kanan and Ezra without seeing them use their powers or even knowing they're Jedi. There likely won't be any fighting on the Rebel base, so there would probably be no need for Kanan and Ezra to use their powers, so Cassian would never know their identity. There's no need for Kanan and Ezra to announce they're Jedi ,or for members of the Rebel Alliance like Bail Organa to inform Cassian.
There's also the possibility that Cassian and K-2 could meet some but not all members of the Ghost crew. From a writing standpoint, there are many storylines to resolve, and from an in-universe standpoint, there are endless battles to be waged in the fight against the Empire. Both options could lead the Ghost crew to split up more than ever before. This began last season when Sabine chose to stay with her family on Mandalore, intent on uniting her war-torn home world.
This season, some of the Ghost crew could head to Lothal to liberate the planet from the Empire, while others combat the ongoing threat of Grand Admiral Thrawn. If Kanan and Ezra go to Lothal, Cassian and K-2 could still meet other members of the Ghost crew like Hera and Zeb.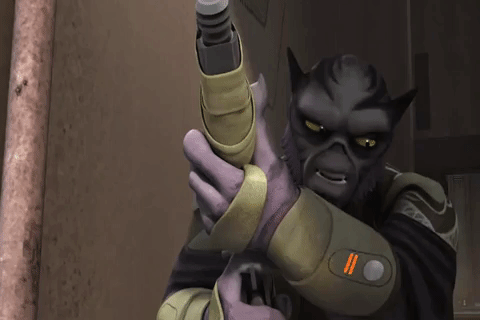 Cassian's Fulcrum Status Could Lead To A Mission With The Ghost Crew
Just because the Rebel Alliance base is on Yavin 4 and Cassian, K-2 and the Ghost crew will logically all be there this season doesn't mean it's the only place these characters can meet. Just like Ahsoka and Kallus, Cassian is also a Fulcrum agent. With Ahsoka's fate still a mystery, and Kallus getting his cover blown at the end of last season, Cassian could very well become the key Fulcrum agent in the show. As an undercover agent, he could easily be assigned to help the Ghost crew infiltrate an Imperial base or a planet occupied by the Empire.
Cassian could even be assigned to help the Ghost crew in their mission to liberate Lothal. Cassian's sniper skills and K-2's piloting skills could be utilized for that mission. K-2 would also be well-suited for such a mission thanks to his knowledge of the Empire and ability to blend in as a former Imperial droid.
Even more intriguing is the possibility that Cassian and K-2 work with the Ghost crew without them realizing who Cassian and K-2 are, or that they're part of the Rebel Alliance. The Ghost crew received critical information from an unknown Fulcrum agent in Season 3 before learning the information came from Kallus. They'd been actively fighting Kallus without realizing he was Fulcrum and on their side, which helped further Kallus's deception towards his Imperial peers. A similar situation could arise with Cassian and K-2 in order to maintain their cover within the Empire.
With all these pieces aligned, it would be a missed opportunity to not introduce Cassian and K-2SO into Star Wars Rebels and have them meet the Ghost crew. Such inclusion can provide more specific insight into what Cassian and K-2 did for the Rebel Alliance before Rogue One, particularly concerning some of Cassian's morally questionable actions that still haunt him. Creating a meeting between these characters can further the fascinating connectivity in #StarWarscanon and another meaningful link between Rogue One and Star Wars Rebels.
Season 4 of Star Wars Rebels premieres Saturday, September 23 on Disney XD.
Do you think the Ghost crew will meet Cassian and K-2SO this season?