It was a rough night for Tyene Sand. Tyene and her mother Ellaria Sand were taken captive following the brutal murders of Obara and Nymeria at the hands of Euron Greyjoy. Now Euron heads for King's Landing with the priceless gift he promised Cersei. Queen Cersei's rage will run unchecked as she torments the women responsible for lethally poisoning Myrcella. Life is pretty terrible for Tyene and her mother right now, but perhaps their doom isn't quite sealed thanks to an unlikely ally in King's Landing: Bronn. The opportunistic sellsword only became the anointed knight Ser Bronn of the Blackwater through working with Lannisters—the very people the Sands seek to destroy. So why would Bronn help these women?
Bronn's History With Tyene
In Season 5 Bronn traveled to Dorne with Jaime Lannister on a foolhardy mission to find Myrcella and bring her back to King's Landing. Tyene and her fellow Sand Snake sisters (R.I.P. Obara and Nymeria) clashed with Jaime and Bronn. During the fight Tyene's dagger cut Bronn with the same poison that would later kill Myrcella. The poison nearly killed him while captive in the Dornish cells. Tyene saved him by tossing over the antidote, only after seducing Bronn from the opposite cell and making him agree that she's the most beautiful women in the world. She also complimented Bronn's singing and his looks.
Will Bronn Help Tyene Or Her Mother?
Attraction and chemistry flared between Bronn and Tyene in Season 5. But more importantly, Tyene chose to save Bronn's life when she could've easily allowed the poison to kill Bronn as it later did Myrcella. Bronn owes Tyene his life. Bad p*ssy is not worth betraying the Lannisters and risking his life.
A life debt is a different story.
Bronn may live for gold and the promises of great wealth that will lead to a castle and noblewoman, but he also has a code. He's always remained brutally honest and loyal to both Tyrion and Jaime. Sure, they've paid him well and lured him with appealing promises but it's still impressive he's remained so loyal and honest.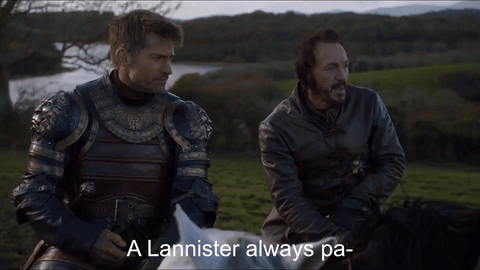 Jaime may still live by certain reasonable and moral principles unlike his sister, but all of that will be thrown out the window when Tyene and Ellaria arrive in King's Landing. These are the women responsible for killing the daughter who died in Jaime's arms seconds after telling Jaime she knew he was her father and was glad about it. Jaime will want Tyene and Ellaria to suffer just as much as Cersei does.
Thus, aiding Tyene would be the first instance of Bronn betraying the Lannisters he serves. Bronn probably won't have any interest in helping Ellaria as they have no history and she was the real mastermind behind Myrcella's death, though Tyene would want him to help her as well. Bronn is now faced with the choice of whether to try and save the life of a woman to whom he owes a life debt and has feelings for or to remain loyal to his benefactor and friend Jaime Lannister.
The Verdict
Ultimately it is unlikely that Bronn will step in to save Tyene or Ellaria from Cersei's wrath. Beneath his ceaseless opportunism Bronn may live by a code, but part of that code is to remain alive and do what your generous benefactors ask of you. There is too much risk and not enough reward in this situation.
Bronn can also be seen next to Jaime Lannister on a battlefield sequence in a Season 7 trailer. Unless he's able to save Tyene without Jaime, Cersei or any of their allies finding out, there's no way Bronn would be next to Jaime on the battlefield.
Still, things were left open-ended enough between Bronn and Tyene in Season 5 with hints towards a future meeting. Current events have created a foundation for such a meeting in King's Landing. However, it will certainly not be the pleasure-filled reunion either character envisioned. Most likely is a scene in which Tyene pleads with Bronn to help as he silently refuses, his instincts for self-preservation taking precedence over the life debt he owes and feelings he harbors for her.
Game of Thrones Season 7, Episode 3 "The Queen's Justice" airs Sunday, June 30th at 9 PM on #HBO.
Will Bronn face Tyene Sand in King's Landing and help her? Share your prediction in the comments section below!
Image Credit: HBO
If you enjoyed this post be sure to check out my novels as well!